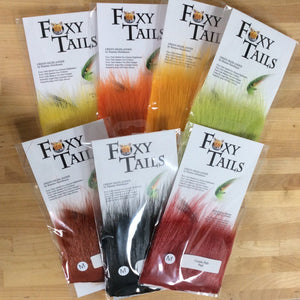 Foxy Tails
Coypu Nutria Pelt
Coypu (or Nutria) is a very spiky material with little underfur although the hairs are not stiff. The hairs are hollow, extremely shiny and hold bright colour well.

Once in the water, Coypu/Nutria becomes very lively with a pulsating movement. For this reason Coypu/Nutria is being used more and more in traditional shrimp fly tails, other modern shrimp style flies and as a replacement for small hook based hairwings like Silver Stoats etc.

Each piece is cut as a pelt patch - this includes the longest hair found down the animals spine to the shorter hair found on the animals side.
---
More from this collection