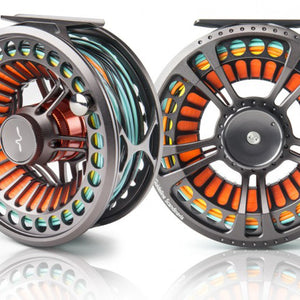 Guideline
Reel Guideline Vosso
VOSSO has been a "mind project" and in a constant, but slow developing process on the drawing boardfor the best part of three years. Since the very first sketches and drawings, we have come a long way. The finished product is solid, modern and has some new features that we are sure will be the cornerstone in VOSSO combines a striking design, featuring a super strong truss construction and a rock solid dragsystem, totally unaffected by outside conditions such as temperature change, water, moisture or dirt. A hard, Black Nickel "Bead Blasted" Stealth finish with a contrasting GL deep red drag cylinderdelivers the looks. The absolutely waterproof and strong drag system is constructed around a stack of carbon and stainless discs. The system is controlled by a comfortable and slightly recessed, large dragknob with a large field of adjustment for perfect fine tuning of the setting, eliminating the risk of "over-adjusting" in the heat of the battle.
A recessed reel foot mounted on a super strong truss-bar construction brings the reel close to the rod for reduced torque and better balance. The same unique truss construction is also used in all support barson the reel. The bottom also features a tippet holder that keeps loose ends from tangling, something that can mean disaster during a long run in a brutal fish fight.
These reels have been manufactured and designed entirely for the field of use; Fishing for Salmon, SeaTrout, Steelhead and Tropical species. They are lightweight, yet extremely rigid and strong. Featuring a slightly "oversized" diameter, they offer fast retrieve and generous backing capacity. reels for years to come. These are the strongest and most advanced reels in the Guideline family, ever...
---
More from this collection